5-day motorcycle tour along the Black Sea coast
Day 1: Tour starts in Sofia. Meeting at the airport. If time allows - a short ride to the architectural reserve of Koprivshtitsa (2-3 hours), otherwise overnight stay in Sofia and the tour starts the next day.
Day 2: On the next morning after breakfast, all day scenic ride along the foothills of the Balkan Range mountain. Final destination is the ancient holiday village of Sozopol - a charming huddle of 19th-century houses on a rocky headland, backed up by two fine beaches, scores of bars and restaurants, and a lively promenade, Sozopol is fast becoming one of the coast's prime attractions. On the way to Sozopol the road passes through Karlovo, Kazanlak, Sliven, Karnobat, Aitos and Burgas.
Dinner and overnight stay in Sozopol.
Day 3: On the next morning enjoy sun-baths and swimming at the resort's beaches followed by a lunch in Sozopol. In the afternoon we will be heading to Nessebar vacation village. After accommodation in a 3-star hotel in the central and more vivid part of Nesebar, we will take a panoramic tour to the Sunny Beach resort and vacation village of St Vlas followed by entertainment and dinner in Nessebar.
Day 4: On the third day after breakfast, relax on the beach of Nessebar or enjoy the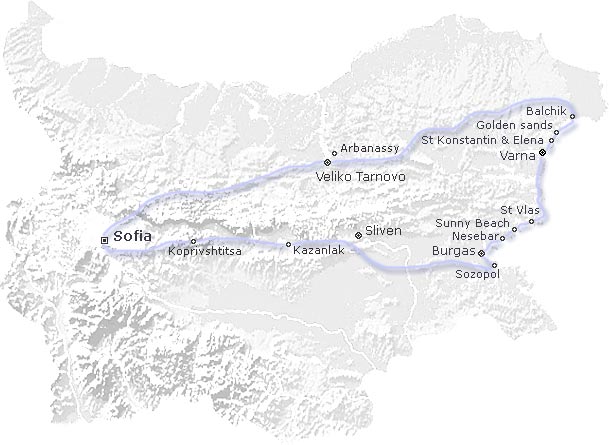 cafés and traditional style pubs in the old town of Nessebar. In the afternoon, we will ride to the sea capital of Bulgaria - Varna and then to St Konstantin and Elena seaside resort where you will stay for the night. Dinner at the hotel.
Day 5: In the morning after breakfast, a ride to the Golden Sands resort and then to the town of Balchik. Visit the summer palace of Queen Maria of Romania and the botanical gardens of Balchik, home to more than six hundred varieties of cacti and trees. Those who prefer can stay in the town of Balchik for the afternoon or take a ride to the secluded rock formations of Kamen Briag at the Black Sea coast and indulge in sun-bathing, swimming, or take advantage of the mineral baths on the plateau. Spend the night in Balchik.
Day 6: On the last day of the tour after breakfast, we will be heading back to Sofia. Lunch and short stop in the city of Veliko Tarnovo. If there is enough time, we will visit Tsarevets fortress.
Day 7: Sightseeing in Sofia before transfer to airport

Tour includes: 5 full days of guided riding, Tour guide, Transfer from/to Sofia airport, Motorcycle rental plus liability and comprehensive insurance, All fuel expenses during the tour, 5-night stay in two and three-star hotels, 5 breakfasts and 5 dinners, Souvenier T-shirt, Route map.