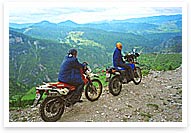 The spectacular Panoramic trip stretches in four Bulgarian mountains - Balkan Range, Rila, Pirin, and Rhopdope mountains. Enjoy the scenic splendors of Bulgaria, called by "New York Times" the sleeping beauty of the Balkans. All routes are thoroughly selected to give you the best panoramic views from Bulgarian nature - winding river gorges, green meadows, beautiful lakes, pre-historic caves, hidden old villages and breathtaking waterfalls.

Itinerary: Meeting at the airport. Transfer to your hotel & welcome dinner.
Day 1:Meeting at the airport. Transfer to your hotel and a welcome dinner.
Day 2: Sofia - Panagurishte - Starossel - Koprivshtitsa
Day 3: Koprivshtitsa - Zlatitsa - Glojene - Ribaritsa - Chiflik - Troyan - Apriltsi - Batoshevo - Arbanassi
Day 4: Arbanassi - Veliko Tarnovo - Dryanovo monastery - Shipka - Plovdiv - Bachkovo
Day 5: Bachkovo - Wonder Bridges - Pamporovo - Shiroka Luka - Trigrad
Day 6: Tirgrad - rest day. Extra outdoor activities - hiking, caving, biking, horseback riding, climbing
Day 7: Trigrad - Lake Vucha - Lake Batak - Lake Vasil Kolarov - Dospat lake - Velingrad
Day 8: Velingrad - Undola - Belmeken - Bansko - Gotse Delchev - Melnik Day 9 Melnik - Rila monastery - Sofia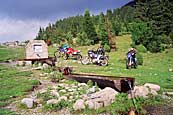 Tour highlights:
Enjoy outstanding panoramic roads which will reveal magnificent sceneries from Bulgarian nature - Vidima waterfall, Wonder Bridges, Devil's Throat, Lake Belmeken. • Walk on the streets of the architectural and historic reserves Koprivshtitsa and Kovachevitsa steeped in 200 years old history. • Visit some of the greatest Bulgarian monasteries which will amaze you with their spirit and architecture - Bachkovo monastery, Trojan monastery, Batoshevo monastery, Dryanovo monastery, Rila monastery. • Discover the biggest ancient Thracian sanctuary on the Balkans, the phenomenal Starossel Tomb. • Ride along numerous gorgeous lakes situated in the most attractive part of the Rhodope mountains - Dospat, Shiroka Poliana, Vasil Kolarov and Batak. • Spend a night in Velingrad - the most beautiful and most famous among the Bulgarian spa resorts. • Bansko mountain resort will charm you with its friendly people, excellent pubs and delicious traditional food. • Dive in the unique atmosphere of Melnik - the smallest but the most charming city in Bulgaria, try the favorite wine of Winston Churchill and see the Melnik pyramids natural phenomenon.