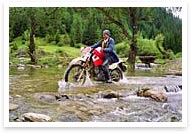 The Adventure motorcycle tour is a perfect mix between off-road riding and mountain touring. It is designed for those keen to discover new places and the routes include scenic off-road motorcycle roads and winding mountain passages and require more concentration and physical demand than an open road. Those taking part should be capable of riding on rough, steep and gravel roads and should be geared for adventure touring.
Itinerary: Meeting at the airport. Transfer to your hotel & welcome dinner.
Day 1: Sofia - Chavdar chalet - Bunovo - Mirkovo
Day 2: Mirkovo - Koprivshtitsa - Bogdan peak - Karavelovo - Karnare
Day 3: Karnare - Kalofer - Taja chalet - Apriltsi
Day4: Apriltsi - Mazalat - Uzana - Bachkovo
Day 5: Bachkovo - Asenovgrad - Marciganitsa - Belintash - Mugla - Trigrad
Day 6: Trigrad - rest day. Extra outdoor activities - horseback riding, hiking, caving, climbing
Day 7: Trigrad - Devin - Shiroka Poliana lake - Toshkov Chark lake - V. Kolarov Lake - Sarnitsa - Kovachevitsa
Day 8: Kovachevitsa - Gotse Delchev - Breznitsa - Dobrinishte - Bansko - Sofia
Tour highlights: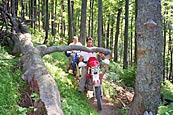 Quicken your pulse and put your adrenalin to the extreme, challenging some of the toughest motorcycle off-roads and mountain tops in Bulgaria - Hristo Botev peak, Mazalat peak, and Bogdan peak. • Enjoy the intoxicating sceneries of Sredna Gora, the Balkan Range and Rhodopes mountains. • Follow narrow off road paths and discover hidden mountain villages with unique customs and traditions preserved by their inhabitants through the years. • Visit Bachkovo monastery that will amaze you with its magnificent architecture, unfading frescos and murals hiding ages of dramatic Bulgarian history. • Feel the authentic atmosphere of the 19th century lodging in the villages of Kovachevitsa and Koprivshtitsa. • Relax in the village of Trigrad in the heart of the majestic Trigrad Gorge surrounded with stunning nature, exciting off-road motorcycle routes, and pre-historical caves (4300 BC). • Take advantage of all extra outdoor activities scheduled for you on this tour.