Day 1 - Sunday
Arrival at Juan Santamaria International Airport in San Jose, Costa Rica. You will be picked up by a member of the MotoAdventures staff and will be transferred to the Hotel Marriott Courtyard, located in Escazu. Depending on your time of arrival, you can take an opportunity to visit the city as there is a direct shuttle from the hotel to downtown every 30 minutes. Good hydration is recommended this first day in preparation for your ride.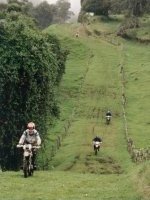 Day 2 - Monday
Ride from San Jose to Punterenas on the Gulf of Nicoya. This day includes a very mountainous ride, forest with trails that includes many river crossings, trails that go uphill, and downhill ,many have high berms in the corners making them a unique type of trail. We will have lunch in the town of Santa Marta and from there we take the airplane trail (above the clouds). The Airplane Trail will take us to Carara National Park where we will ride through rainforest trails that naturally form a motocross track that runs for approximately 20 miles. We'll stay overnight at a resort hotel on the Gulf. Day 3 - Tuesday
Depart Punterenas riding north to board the ferry crossing the Gulf of Nicoya. Arrive on the Peninsula and tour the peninsula's savannah-like terrain on beautiful single and double track trails.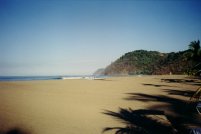 Day 4 - Wednesday
Ride the Peninsula for one-half or one-full day depending on whether you would like a partial rest day at the beach on the Peninsula. Overnight at a resort on the Peninsula Day 5 - Thursday
Ride back to the ferry for crossing the Gulf and ride to Punterenas using different routes. Overnight in Punterenas. Day 6 - Friday
Ride back to San Jose from Punterenas using different routes. Overnight at the Marriott Courtyard in San Jose.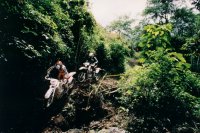 Day 7 - Saturday
Free day in San Jose, good day to take one of the many tours available, the most recommended and almost a must is white water rafting, a very good way to finish an exciting vacation, there also is the canopy tour, Aerial Rain Forest Tram, Arenal Lake and Volcano, coffee tour, Poas volcano tour and many more. If you wish we will transport you and your gear from the Hotel to the airport for your return home.