Day 1 - Sunday
Arrival at Juan Santamaria International Airport in San Jose, Costa Rica. You will be picked up by a member of the MotoAdventures staff and transferred to the Hotel Marriott Courtyard, located in Escazu the best and most modern area of Costa Rica. Depending on your time of arrival,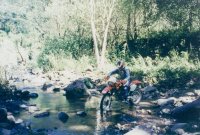 you can take the opportunity to visit the Multiplaza Mall, which is within walking distance from the hotel. Good hydration is recommended this first day in preparation for your ride. Day 2 - Monday
Ride from Escazu to Jaco beach (on the Pacific Coast). This day is a very mountainous ride, covering forest with trails that include many river crossings, hill climbs and descents. Many of these trails have high berms in the corners making them a unique type of trail. We will have lunch in the town of Santa Marta and from there we take the Airplane Trail (above the clouds). The Airplane Trail will take us to Carara National Park where we will ride through rainforest trails that form a natural motocross track running approximately 20 miles. This portion of our tour brings us close to the Best Western Hotel at Jaco Beach. We overnight at Jaco Beach. Day 3 - Tuesday
Stay in Jaco Beach. This day can be used as a free day to rest after the ride or to recover from the good nightlife Jaco Beach has offered you the night before. Today you can enjoy the many activities that Jaco Beach offers. You can simply relax on the beach or take one of the many tours offered at the front desk of the hotel. There is a wide variety of things to do in Jaco such as the Canopy Tour (highly recommended), crocodile safari, horse back riding, scuba diving, sport fishing, snorkeling, surfing, boogie boarding, waterfall hike or national reserve nature tour. If you're just itching to do more riding, Jaco has an excellent enduro loop that is part of the classic two-day Enduro Jaco Beach race.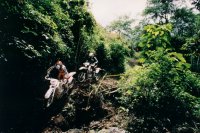 Day 4 - Wednesday
Ride from Jaco Beach to the Aserri Mountains taking a different route than the one used to arrive at Jaco. We first ride a portion of the classic two day enduro trails that start our climb towards San Jose, again through the rain forest with many river and stream crossings. We'll stop in the town of Puriscal for lunch. From Puriscal, we take the Skyline Trail to Colon City (very scenic).

Then we start climbing towards Aserri on the new and already famous Bamboo Trail, which is a great narrow single track climb that starts in a bamboo forested river bed with many turns and berms. We then continue climbing through the coffee field trails, also featuring many turns and spectacular scenery, taking us to Hotel Alta Vista at 6,000 feet, with a spectacular view of the city of San Jose.

Day 5 - Thursday
Ride from Aserri to Volcano Turrialba Lodge. We start descending thru coffee field trails and some single track towards Cartago City (the old Capital of Costa Rica), then cross the valley where we'll find more scenery and cool temperatures as we gain altitude from 3,000 to 10,000 feet. The ride consists of many interesting single track trails through old pine tree forests and cloud forests. We even get to ride inside a volcano (dormant of course) and several different types of terrain including grassy, sandy, rocky and volcanic ash. Day 6 - Friday
Ride from Volcano Turrialba Lodge to Escazu (west San Jose). On Friday we climb to Volcano Irazu National Park at 12,000 feet. From the National Park we take a narrow, volcanic single trail downhill into Cartago City where we will have lunch. From Cartago City, we take wider trails to the mountain area in Escazu. We will stay overnight in Escazu at the Marriott Courtyard Hotel. Day 7 - Saturday
Free day in San Jose. This is a good time to take one of the many tours available. The most highly recommended and almost a must is white water rafting; a very good way to finish an exciting vacation. There is also the canopy tour, Aerial Rain Forest Tram, Arenal Lake and Volcano, coffee tour, Poas Volcano tour and many more. If you wish, we will transport you and your gear from the hotel to the airport for your return home.