Southern Spain in February is a delight. It has wonderful weather, empty twisties, great scenery, lots of history and comfortable hotels. And because this is one of the first tours of our season, you get to ride brand new BMWs, just waiting to be broken in.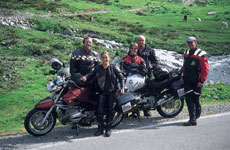 Whether R 1150 GS or R 1150 R, these fiery steeds sure seem to have Spanish blood.


• February to May and October/November!
• Rest day in Arcos de la Frontera, and half a rest day in Granada (Alhambra) and in Ronda, cradle of bull fighting.
• The route is covered mostly on small and winding roads through the Sierras and along the coast of the Mediterranean (the road to Ronda has 419 curves).
• Total distance: 900 miles
Daily rides: 100–180 miles
• Accommodations: Mostly paradores, the Spanish way to make a great hotel out of an historic building such as a monastery or castle.

It is a great one-week escape from the daily grind in the spring, at an attractive price, a spring break for the connoisseur of great riding!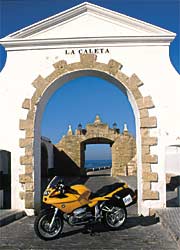 Easy riding the S to Castillo de San Sebastian near Càdiz where Columbus started for America.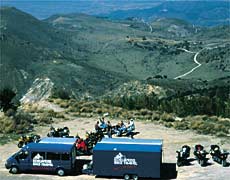 In Andalucia, too, the picnic is the highlight of the tour. Luggage is transported in the support van and awaits you in your hotel room every evening.
---
---
TOUR DATES
Feb, 6. 2004 - Feb, 14. 2004 Fully Booked
---
Feb, 14. 2004 - Feb, 22. 2004 Fully Booked
---
Mar, 19. 2004 - Mar, 27. 2004
HIGH SEASON
---
Mar, 27. 2004 - Apr, 4. 2004
HIGH SEASON
---
Apr, 3. 2004 - Apr, 11. 2004
HIGH SEASON
---
Sep, 24. 2004 - Oct, 2. 2004
HIGH SEASON
---
Oct, 2. 2004 - Oct, 10. 2004
HIGH SEASON
---
Oct, 10. 2004 - Oct, 18. 2004
HIGH SEASON
---
Feb, 4. 2005 - Feb, 12. 2005
---
Feb, 12. 2005 - Feb, 20. 2005
---
Mar, 18. 2005 - Mar, 26. 2005
HIGH SEASON
---
Mar, 26. 2005 - Apr, 3. 2005
HIGH SEASON
---
Sep, 23. 2005 - Oct, 1. 2005
HIGH SEASON
---
Oct, 1. 2005 - Oct, 9. 2005
HIGH SEASON
---
Oct, 9. 2005 - Oct, 17. 2005
HIGH SEASON
---