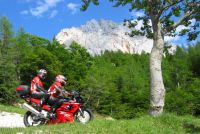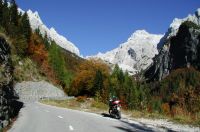 Slovenia Weekend Tour
3 days / 3 riding days
This is a great chance for those with very little time who still want to experience the best Alpine roads that Slovenia can offer. You will stay in a small historic town, close to Ljubljana. Every day of the trip you can decide whether you want to ride the bike or just stay around hotel, relax by the pool, or stroll the picturesque medieval old town. It's always your choice.
This tour is aimed at smaller groups (up to 5 bikes), but will always be implemented for a single rider! Don't be tied-down to weekends - you can visit Slovenia on weekdays as well.
Come and enjoy some real Slovenian hospitality and tasty traditional food.

| | |
| --- | --- |
| Day 1 | We'll first ride north, covering some beautiful Alpine country. We ride up the valley of river Kokra to arrive to Jezersko from where we cross to Austria for a couple of kilometres. Back in Slovenia we descend to Logarska valley, one of the most beautiful glacially formed Alpine valleys in Europe and surrounded by peaks over 2200m high. After lunch we follow the Savinja river on a twisty road heading east and return to our hotel in late afternoon. |
| Day 2 | After breakfast we ride to lake Bled, the most popular Alpine resort in Slovenia, and than continue to larger lake Bohinj. We climb up the Vrsic pass (1611 m) that offers some really spectacular views of the surrounding mountains, and descend to the valley of river Soca, famous for its deep, almost unreal, torquoise colour. During the WWI, this area of peace and tranquillity was the site of the infamous Isonzo Front. On the way back we navigate twisty road across Cerkljansko mountains, which is great for motorcycle riding and a real feast for your eyes |
| Day 3 | Some beautiful riding in the morning will get us to Postojna, famous for its cave and Predjama castle. Situated in the gaping mouth of a cavern halfway up a 130 metre cliff this medieval castle has one of the most dramatic settings anywhere and was once home of Erazem Lueger, the Slovenian equivalent of Robin Hood. All too soon we now have to ride back to our hotel or the airport. |
Mileage

Tour Dates

Approx. 600 - 700 km (400 - miles)

Maximum Mileage – your choice!

Any time between May and October

Starts on Friday, finishes on Sunday...

...or any other days of the week...


SLOVENIA TOURS PRICES




per person in US Dollar

Motorcycle Choice

Sharing a double room and riding the motorcycle two up.

Sharing a double room and riding the motorcycle solo.

Staying in a single room and riding the motorcycle solo .

Extra motorcycle rental before or after the tour. Price per day.

BMW F 650 GS

343

454

490

100

BMW R 1150 R

358

482

518

115

BMW R 1200 GS
BMW R 1150 RT

373

504

540

125

Your Own Motorcycle

223

312

348

-

Group discounts available.
The 3 day Slovenia tour includes:
Late model BMW motorcycle with lockable hard luggage and/or tank bags plus a Third party liability insurance and Comprehensive vehicle insurance.
Competent guide on a motorcycle.
Support van for luggage and souvenir purchases (for groups of 3 or more bikers).
2 nights accommodation in quality 3*** hotels or first class Bed & Breakfasts.
2 breakfasts. Over breakfast your guide will cover the day's tour route and suggest various riding options.
Airport transfers on arrival and departure.
Detailed route sheets and all maps for the region being toured