Day 1: Tour starts in Sofia. Meeting at the airport. Welcome dinner with live music entertainment and overnight stay in Sofia.
Day 2: On the next morning, we go for a 4/5-hour ride to the town of Kardjali. On the way, we will visit Bachkovo monastery and take a ride along Kardjali lake. Upon arriving, we'll have lunch on a floating platform-restaurant on the lakeshore. After lunch we will be heading to Perperikon - the site literally described by the ancient authors as the Temple of Dionysus in Rhodope mountains. Located some 10 miles from the town of Kurdjali, this fertile sheltered place had attracted settlers in very ancient times, and today it reveals invaluable archaeological remains. After touring Perperikon, we will be going back to Kardjali and spend the night there.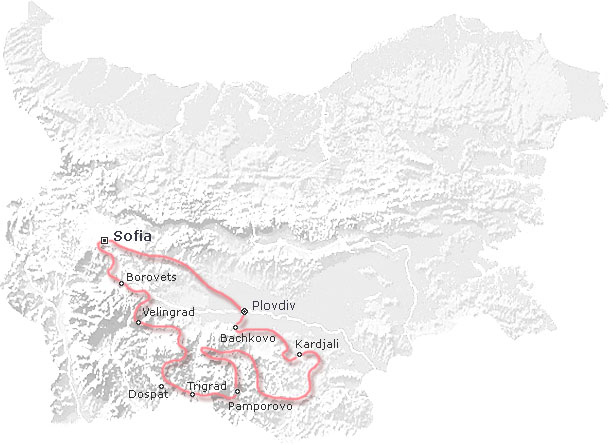 Day 3: On the next morning after breakfast, we will be riding panoramic back roads in the heart of Rhodopes mountains heading to the Wonder Bridges natural phenomena - majestic stone bridges cut by the passing river centuries ago, a definite must-see. After sightseeing the bridges, we will continue our ride to Pamporovo mountain resort and then to our final destination for the day - the village of Trigrad. Overnight stay in an authentic Rhodope house in the village of Trigrad.
Day 4: Next day you can choose to practice variety of outdoor activities - horseback riding, climbing, visiting the Devil's Throat cave or for thriller lovers, penetrating Haramiiska cave - situated in the best part of the Trigrad gorge, it offers a 20m climbing adventure, followed by a 43m descend into the big hall of the cave, which is 160m long, and 60m high. Those glued to the saddle can go for a panoramic ride through Trigrad and Yagodina gorges and a visit of Yagodina cave - the longest cave on the Balkan peninsula (10km), located in the canyon valley of the river Buinovska with a splendid collection of carst formations. Another alternative is to take a back road ride to the Chairy site. On your way back to Trigrad, those with the spirit of adventure can enjoy the off-road from the village of Yagodina to Trigrad. Overnight stay in Trigrad.
Day 5: On the last day of the tour, we will be riding lakeshore panoramic roads along some of the most beautiful lakes in Rhodope mountains: Dospat lake, Shiroka Poliana lake, Batak lake and Belmeken lake. Arriving in Sofia and transfer to the Airport.