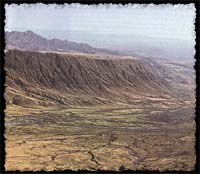 DAY 1 : KILIMANJARO AIRPORT - ARUSHA (45 kms) Guests are welcomed at KILIMANJARO Airport then transfered by road to their hotel in Arusha town.
DAY 2: ARUSHA INTO THE RIFT VALLEY (195 Kms) First a tarmacked 80 Kms section then a 45 kms trail that leads to MTO WA MBU, a village located on the floor of the Rift valley within the greenery of luxuriant tropical vegetation at the shores of Lake MANYARA (soda lake).
The last 70 kms is a sandy and stony track on the rift which goes to ENGARUKA a Masai village right on the way to Lake NATRON, northwards to the Kenyan border. A few kilometres on, the trail rolls down into a vaste valley where hundreds of gnus, zebras and antelopes assemble for pastures and water and…… there, you are! in one of Hemingway's hunting grounds.
For the night pitch-tent in the quiet setting which offers your eyes a captivating view of the african wild in its abundance .

DAY 3 : OLDOINYO LENGAI-LAKE NATRON - LAKE MANYARA (170 Kms) An early morning leg takes you through the foot of OLDOINYO LENGAI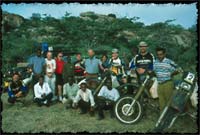 (the Sacred Mountain of the Masai 2800 m a.s.l) which is surrounded by deep calderas whose sides are covered with volcanic ash lava. Here the whole scenary inspires in your mind the image of a picture from the moon. Driving on a further 50 Kms, a sandy road towards the Kenyan border brings you to the shores of Lake NATRON, the world's largest soda lake, laying at the lowest point in the whole Rift Valley. It has a particularly hot climate which, interestingly is the prefered habitat for flamingos where they go to for breeding. Nearby, a river gorge allows some swimming in crystal clear water.
Return to MTO WA MBU Town in the afternoon through a stony trail 120 Km long. Night in a hotel .

DAY 4 : LAKE MANYARA - NGORONGORO CRATER (35 Kms) Early morning you cruise on a smooth trail and arrive at a crater of extra-ordinary size: NGORONGORO (600 m deep, 30 Kms wide). Covered with indegineous forest on its slopes NGORONGORO is home to almost all African wildlife species.
Motorcycles are left at the campsite and riders taken aboard a 4WD car for a game drive excursion inside the crater. Return to the campsite in the evening .
DAY 5 : NGORONGORO - TARANGIRE ( 115 Kms of smooth road) Ride back into the Rift Valley all the way to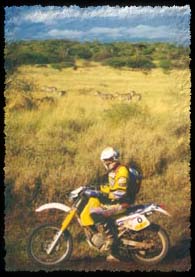 TARANGIRE GAME RESERVE. It is possible to visit the reserve (optional) at the end of the afternoon then retire to the campsite for the night.
DAY 6 : TARANGIRE - KONDOA (190 Kms) Taking the north-south trans Tanzanian highway you move through forested areas and beautiful hills up to KONDOA highlands where you spend the night in a hotel.
DAY 7 : KONDOA - KIJUNGU (200 Kms) A gentle descent into KITWEI plains on a sandy road, that for 100 Kms, runs through acacia forests into a Masai village - KIJUNGU for a Camping night. You will enjoy Masai style hospitality -BBQ and a great deal of traditional songs and dances.
DAY 8 : KIJUNGU - SINDENI (135 Kms) This stage ushers you into the coastal region. There is a remarkable change in the landscape, climate and the local community - you meet The SWAHILI people. Trails of red soil navigate you through mango, cashewnut trees and other tropical vegetation. Then a night camping with local people who perform traditional beats and dances, a real african night under stars.
DAY 9 : SINDENI - PANGANI (130 Kms) A very wonderful section which goes through a dense forest and comes out at PANGANI a coastal town with a small Swahili port . Arrival early afternoon; night in a beach coconut palm leaf-roofed "banda" built just under the coconut trees.
DAY 10 : PANGANI - TANGA (25 kms) An easy drive of 25 kms on a road running along the seaside to TANGA where the crew joins the participants for a farewell lunch. Guests are taken by car to KILIMANJARO AIRPORT (350 kms of good highway) for their return flight .

Note:
- More hotel accomodation can be arranged on the route for an extra charge of USD 45 per day

· · The itinerary may be changed according to the season, weather conditions or other factors.
· It is possible to have a customised itinerary…
Note that 150 kms on tracks are about 4 hours driving!

· A proper driving licence is compulsory to participate but drivers need not to have a special level of driving/riding skills to participate, all you need is team spirit and the drive - to enjoy!

· Contact us if you wish to extend your stay at the coast, Pemba, Zanzibar or Mafia islands (after the tour at an extra cost).
You can enjoy:- diving, snorkeling, big game fishing off, Dhow trips through tropical islands along the coast or trekking on Mount Kilimanjaro slopes …