South Africa
20 Day Safari & Motorcycle Tour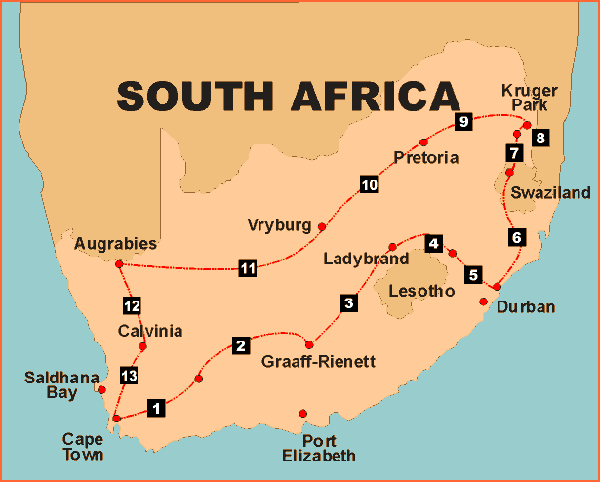 We have travelled the length and bredth of South Africa in order to seek out the best possible route through this magnificent country that will provide you with a bike tour of the splendid highlights. Our intrepid path finder has also spent many night in some of the finest accommodation en route and he assures us that you will be sleeping well after each leg of this increadable journey.
Each leg of your Great African Motorcycle Tour has been highlighted on the map and the numbers in [square brackets] refer to these.
Sat 6th July.
Depart Europe / America on a direct flight to Cape Town / Johannesburg.
Day 1
Morning arrival at Cape Town International Airport. Collection from the airport and transportation to accommodation, City Lodge, Cape Town, arranged. Rest until 3pm. Two-hour minibus Cape Town orientation tour introducing some of the city's famous sights as well as some of its world-famous beaches. Collection of bikes. Introduction and welcome by Tony France over dinner.Accommodation in the City Lodge Hotel, Cape Town. Tel: 021-685-7944

Day 2
Leaving Cape Town on the N1 highway that links the city to Johannesburg, we climb through the Du Toit's Kloof Pass and travel through the wine-producing Hex River valley, its surrounding peaks often blanketed in snow at this time of year. Entering the Great Karoo, we reach an altitude of over 1000 metres, and arrive at the historic hamlet of Matjiesfontein, a national monument, with the Swartberg mountains as a backdrop. Accommodation at the historic Lord Milner Hotel, Matjiesfontein. Tel 023-551-3011Total distance for the day: 242 km (151 miles). Only about 3 hours travel time [1]

MAP [1]
Day 3
On Day 2 we cross the dry open plains of the Karoo eventually passing through the magnificent Sneeuberg mountains and descend to the frontier town of Graaff-Reinet, known as the 'gem of the Karoo'. Head out to the Valley of Desolation to watch the sun set over the Karoo. Accommodation in the romantic Drostdy Hotel, Graaff-Reinet. Tel: 027-498-9221Total distance for the day 485 km. or 303 miles; about 6 hours travel time excluding a 1-hr. lunch stop [2]

MAP [2]
Day 4
Departing Graaff-Reinet via the Naudesberg Pass through the Sneeuberg mountains, we traverse the remote Mountain Zebra National Park and pass through Aliwal North, famous for its natural hot water springs. Approaching the mighty snow-capped Drakensberg mountains, we pass through rolling sheep-farming country. Heading north, we skirt the kingdom of Lesotho to the East and continue on to the picturesque town of Ladybrand.Accommodation in the Cranberry Lodge Guest House, Ladybrand. Tel: 051-924-2290Total distance for the day 400 km. or 250 miles. 6.5 hours travel time excluding 1 hr. lunch stop [3]

MAP [3]
Day 5
Today is spend on back roads through dramatic but beautiful country with the majestic Drakensberg mountains as our backdrop. Weather-permitting, we head through the Oliviershoek Pass after an undulating road and then its on to Winterton and finally our mountain top destination, The Nest, offering spectacular views. Accommodation in the Drakensberg Resort Hotel, The Nest. Tel: 036-468-1069Total distance for the day 334 km. or 209 miles, which equates to about 6.5 hours including the lunch stop [4]

MAP [4]
Day 6
Journeying through the lush tropical region of northern Natal, we gradually descend to sea level and a warmer climate. En-route we visit battle sites from the Anglo-Zulu and Anglo-Boer wars. Vast sugar cane estates, banana plantations and picturesque African rural hamlets with mud huts greet us as we head towards the coastal town of Stanger, the location of the great Zulu King Shaka's capital and the site of his assassination by his half-brothers. Towards the end of the day, we reach the warm Indian Ocean at Mtunzini, at the mouth of the Mlalazi river, where we overnight. This small resort located within the sub-tropical climate offers pristine sandy beaches, horse riding, a golf course, water-skiing, and wildlife tours.Accommodation in the Room With A View Hotel, Mtunzini. Tel: 035-3401-011Total distance for the day 366 km. or 229 miles. With a visit to a battle site our total travel time today will be about 9 hours [5]

MAP [5]
Day 7
Day 7 of our journey and time for a well-deserved rest at Mtunzini. Spend the day swimming in the warm Indian Ocean, water-skiing, playing a round of golf, fishing, or seeking the rare Palmnut Vulture in the nearby mangrove swamps. Accommodation in the Room With A View Hotel, Mtunzini. Tel: 035-3401-011

Day 8
Back on the road, we head north through more lush, tropical vegetation on a particularly attractive route to the kingdom of Swaziland. We enter in the south at Lavumisa and head along the border to Mkhaya Nature Reserve, famous for its White rhino, elephant, buffalo, giraffe, hippo, leopard, crocodile and others. Depositing our bikes outside the reserve at the local police station, we are collected by a safari truck that provides us with an unforgettable tour of the reserve. Our night's accommodation is in cottages or safari tents with meals cooked over a central log fire.Accommodation at the Mkhaya Safari Camp, Mkhaya Game Reserve. Tel: Swaziland 268-528-3943Total distance for the day 322 km. or 201 miles and travel time about 4 hours excluding a lunch stop [6]

MAP [6]
Day 9
A full day spent tracking animals in the reserve by means of a Land Rover. Dinner around a log fire in traditional African style in the reserve. Mkhaya Nature Reserve prides itself as a refuge for endangered species providing genuine feeling of Africa by limiting its camp capacity to avoid over commercialisation. Highly skilled Swazi rangers assist with animal tracking and are always willing to share their experiences, culture and musical talents. Accommodation at the Mkhaya Safari Camp, Mkhaya Game Reserve. Tel: Swaziland 268-528-3943

Day 10
Returning to our bikes on Day 10 of our adventure we explore northern Swaziland with its rolling hills and remote African villages. Passing through the capital Mbabane, we traverse the breathtaking Piggs Peak pass and leave the country in the north and head on to the regional capital of Nelspruit and the citrus fruit-growing belt. Proceeding north again, we climb the great escarpment, a spectacular compound of forest-mantled mountains, deep ravines, crystal streams and cascading waterfalls. Accommodation at the Safari Lodge, Hazyview. Tel: 013-7377-113Total distance for the day 379 km. or 237 miles which is about 5.5 hours travel excluding a lunch stop [7]

MAP [7]
Day 11
Leaving our bikes at the hotel, we board a safari vehicle for an all-day trip around the world-famous Kruger National Park, home to the Big Five. The timing of our trip in the dry season means we have an excellent chance of spotting most of the animals including lions.Accommodation at the Safari Lodge, Hazyview. Tel: 013-7377-113 [8]

MAP [8]
Day 12
Day 12 presents us with perhaps the finest day of motorcycling of the entire tour. We circuit the incredibly beautiful Blyde River Canyon on a perfect road with sweeping bends, two famous mountain passes and plenty of stunning scenery. Accommodation at the Safari Lodge, Hazyview. Tel 013-7377-113Total distance for the day 320 km. or 200 miles. The travel times depends entirely on how fast you take it, i.e. from 3.5 to 5 hours.

Day 13
On Day 13, we change directions and begin to head west across the country. We spend the day passing through vast, flat country of bushveld and thorn trees, with lonely farmsteads shaded by eucalyptus and willow trees, and endless fields of sunflowers, groundnuts, tobacco and citrus fruits. This is also the great maize granary of southern Africa with maize fields that stretch across the horizon. We overnight in the capital, Pretoria, home to the famous Union Buildings that hosted the inauguration of Nelson Mandela in 1994.Accommodation at the comfortable Holiday Inn Garden Court Hotel, Pretoria. Tel: 012-322-7500Total distance for the day 399 km. or 249 miles with travel time of about 5 hours excluding a lunch stop [9]

MAP [9]
Day 14
Proceeding west across the country, the vegetation becomes more and more scarce as we head into a desolate area of the country, where the horizon appears to become larger and larger, and fewer settlements are seen. In this seldom explored part of Africa, the vast size of the continent becomes more and more apparent. Today, we pass through the predominantly Afrikaans-speaking towns of Potchefstroom and Klerksdorp into the rich cattle farming area surrounding the town of Vryburg.Accommodation at the International Hotel, Vryburg. Tel: 053-927-2235Total distance for the day 531 km. or 332 miles with a travel time of about 6 hours excluding a lunch stop [10]

MAP [10]
Day 15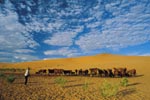 Heading further west, the climate continues to become drier, the distances huge and one begins to feel like a microcosm moving through eternity. Our route takes us through the remote town of Kuruman, famous for its natural spring and mission station, through the Langeberg mountains and past the city of Upington. Suddenly, after hundreds of kilometres across a landscape of browns and greys, we are rewarded with our arrival at the beautiful green irrigated fields, abundant with vines and table grapes, bordering the mighty Orange River that further downstream forms the national border with Namibia. 115 kilometres after Upington, we arrive at the Augrabies Falls National Park, our destination for the day. These spectacular falls have an astounding capacity of 6 750 000 litres per second as they thunder into the gorge below.Accommodation at the Augrabies Falls Chalets, Augrabies Falls. Tel: 054-452-9200Total distance for the day 488 km. or 305 miles with a travel time of about 5 hours excluding a lunch stop [11]

MAP [11]
Day 16

Day 16 and time for another rest day after our trek across the country. Spend the day viewing the falls, on local hiking trails, around the swimming pool, or exploring locally by bike.Accommodation at the Augrabies Falls Chalets, Augrabies Falls. Tel: 054-452-9200

Day 17

We return to Upington early, and then head south back towards Cape Town. We pass through endlessly flat open countryside interspersed with saltpans and isolated farms. One such saltpan, Verneukpan, was the location of Sir Malcolm Campbell's testing of his world speed record car. We pass through two Karoo towns, Kenhardt and Brandvlei, before reaching our destination of Calvinia. Accommodation at the Commercial Hotel, Calvinia. Tel: 0273-411-020Total distance for the day 450 km. or 281 miles with a travel time of about 4.5 hours excluding a lunch stop. (Flat, fast open country) [12]

MAP [12]
Day 18

Day 18 marks our return to Cape Town. Leaving Calvinia, we drop off the escarpment via the Vanrhyns Pass and skirt the magnificent Cederberg mountains as we pass through citrus and wheat farming districts. Before reaching Cape Town, we make a diversion to the fishing town of Saldahna Bay on the Atlantic Coast. The famous sight of Table Mountain from across Table Bay greets our return to Cape Town.Accommodation at the City Lodge Hotel, Cape Town Tel: 021-685-7944Total distance for the day is 420 km. or 262 miles with a travel time of about 6 hours excluding a lunch stop at Saldanha Bay [13]

MAP [13]
Day 19

Today we tour the Cape peninsula and have lunch at Cape Point where the Atlantic and Indian Oceans are said to meet. Cape Point is also the southwestern most tip of Africa and the reserve is home to spectacular fynbos, vegetation found only in the South Western Cape, as well as numerous buck and baboons. Accommodation at the City Lodge Hotel, Cape Town.Total distance for the day 120 km. or 75 miles. This is a very relaxed days riding with a travel time of about 5 hours.

Day 20

A final free day to explore Cape Town. Take a ride in the cable car to the top of Table Mountain, visit the famous Waterfront area for shopping and excellent restaurants, or visit the world-renowned Kirstenbosch National Botanical Gardens.Accommodation in the City Lodge Hotel, Cape Town.

Day 21
Return the bikes and in the afternoon we escort you to Cape Town International Airport for your homeward flights.
TOTAL KM. FOR THE TOUR 5296 or 3310 MILES
TYPES OF MOTORCYCLE AVAILABLE:
BMW R1150 GS
BMW R1100 GS
BMW K1100 LT
BMW K75 RT
BMW K75 Sport
BMW K75
ALL PRICES QUOTED IN US DOLLARS PER PERSON

DRIVER
PASSENGER

SINGLE
ROOM

SHARING
ROOM

SINGLE
ROOM

SHARING
ROOM

1150cc
$ 4894
$ 4384
$ 2844
$ 2502
1100cc
$ 4722
$ 4269
$ 2844
$ 2502
750cc
$ 4536
$ 3986
$ 2844
$ 2357

Includes:
Hire of BMW motorcycle for 20 days
Guide on motorcycle for 20 days
Bed and breakfast in good hotels, guest houses or country lodges for 17 days
Dinner, bed and breakfast at game lodges for 2 days
One day safari in Mkhaya Game Park, Swaziland
One day safari in Kruger National Park, Northern South Africa
Collecting and delivering to Cape Town International Airport.

PRICES DOES NOT INCLUDE
Petrol
Dinner other than when specified Side trips to other than Mkhaya and Kruger National Parks
Air flight to and from Cape Town
Personal insurance.