Early breakfast, then down to the office to collect the bikes and a short briefing on European riding before we begin the tour in earnest with a ride south, en route we take in Ceski Budovice and Cesky Krumlov, described as a MUST SEE place by our guide

Riding distance: 110 Miles

An enjoyable days ride in picturesque country, with a visit to the infamous Eagles Nest, Hitler's mountain top reception house on the top of Kehlstein.
There is an optional side excursion up to the castle which takes a few hours, but well worth it as it is a very well run and informal tour.
Riding distance: 165 miles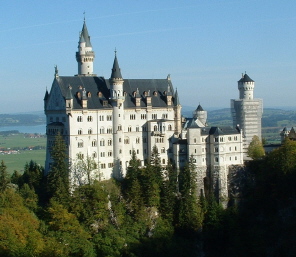 Today we trek deeper into Austria toward Italy, and this means more mountains, and the incredible Grossglockneralpinestrasse, through the glacier alpswhere the sun shines on the valley floor and the snow tops the mountains above with many climate changes in between.
Riding distance: 200 Miles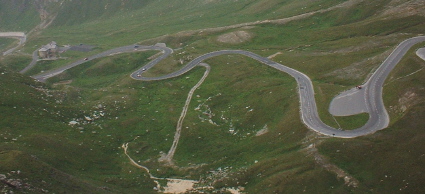 Day 4
Tuesday (or Thursday)
Bolzano - Fussen
An early start for a long day on sweeping mountain roads, through high passes and Italian ski resorts, with the absolutely breathtaking Stelvio pass in the middle, a marvel of engineering, 16 miles through over 40 hairpin bends as we go up, over and down the other side.
Riding distance: 220 Miles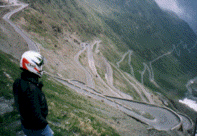 The mighty Stelvio Pass, fancy a ride?
Day 5
Wednesday (or Friday)
Fussen Rest Day
Today we take a well earned break and rest up in Fussen. Time to see the two great castles of Neuschwanstein and Hohenschwangau, plus short trips to the Weiskircke at Steingaten or Oberammergau or even Munich, if you're up for it. Or just hang out in the hotel or town square and watch the world go by.

Day 6
Thursday (or Saturday)
Fussen to Nuremberg
This is a relatively easy ride after all the mountains earlier, so we intend to start early and get to Nuremberg early to allow the most time to sample this historic city.
Riding distance: 170 miles
Day 7
Friday (or Sunday)
Nuremberg to Prague
A pleasant ride back to Prague to end the tour, with a few small side excursions to see the sights, then, we return the bikes, check in to our hotel and gather in the evening for a farewell dinner together.
Riding distance: 190 Miles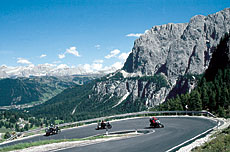 Day 8
Saturday (or Monday)
Prague
After breakfast, return to the airport for flight home
Total riding distance: 1055 miles